A badge is a badge, right?
Not when it's made out of wood! Our custom wood badges are the perfect touch of personality for your next special event, conference or tradeshow.
Made from a 3/16" birch wood with an engraved design, these badges have substance that attendees will want to show off. The textured style and thickness gives them the look of an award-winning plaque—without the plaque price tag! Since these are made from a natural material, color and grain will vary.
With our custom event badges, you can stick to our standard sizes or get creative with a shape that fits your event. Then add personalized names to make your event more memorable and provide something your attendees can take home to remember their event experience. Don't forget to order lanyards. Check out our Lanyard options. We recommend a double oval clip to limit the amount of flipping and turning.
All Event Badger orders are made in the USA and come with free shipping.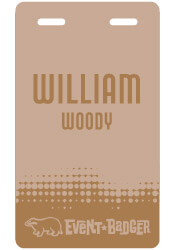 Our Natural wood badge is a one-color design. Starting off with a light tan color and adding an etched dark tan color.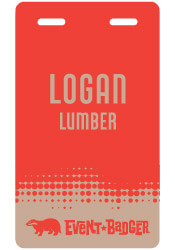 Our Standard Wood badge is a one-color design. Select a color to match your event. 16 color options to choose from.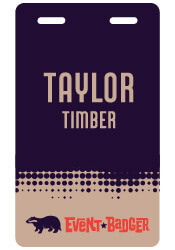 Our Full-color wood badge can have an endless amount of color. Use your brand colors or even print a photo.
Tell us your size and quantity
to get a quote.
Send us your artwork or
work with our designers
Send us a spreadsheet of your attendees' names to personalize each badge
Birchwood is a natural, renewable material that is commercially compostable, biodegradable and recyclable. However, on our Standard Wood Badges and Full-color Wood Badges are considered a treated wood that can not be composted or recycled.
No, the wood material has superior strength and stability make it not prone warping or bending.
No, we have hand pick out a wood that is the highest of quality for laser etching while also being affordable.