Looking to give your attendees something that they'll want to wear and show off? We've got you covered.
Our custom metal badges are a great way to elevate any event, conference, or tradeshow. They're made from 0.040 aluminum blanks, so they're strong and durable. Choose between silver or white metal (silver is best for reflecting light and white works well if you want a more subtle look).
These badges are fully customizable—we can print your logo, event name, and more on them. They come in full color, so you can make sure that your attendees will get the message loud and clear!
With our custom event badges, you can stick to our standard sizes or get creative with a shape that fits your event. Then add personalized names to make your event more memorable and provide something your attendees can take home to remember their event experience. Don't forget to order lanyards. Check out our Lanyard options. We recommend a double oval clip to limit the amount of flipping and turning.
All Event Badger orders are made in the USA and come with free shipping.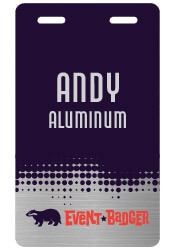 Our Silver metal badge is a full-color design. A luxury look to match your high-end event. You will see these shine from across the room.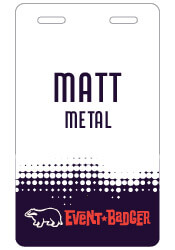 Our White metal badge is a full-color design. A timeless look for any occasion. These will surly match your branding.
Tell us your size and quantity
to get a quote.
Send us your artwork or
work with our designers
Send us a spreadsheet of your attendees' names to personalize each badge
The 0.04 aluminum metal is machine cut to have a buttery smooth edge. However, the corners can get sharp so we recommend a rounded corner badge to you don't poke your eye out.
No, we picked aluminum because it is lightweight and durable. Our metal badges weigh in at around 1 oz per badge.