No animals were harmed in the making of these badges.
That's right! We use faux leather, which is made from a synthetic material that looks and feels like real leather but costs a fraction of the price.
Leather badges are made from 3/64" faux leather sheets with a one-color etched design. Choose from 12 different colors to create a badge that matches your special event or conference perfectly! Our textured and lightweight badges are sure to be a hit with attendees who will want to show off their new badges all over town.
With our custom event badges, you can stick to our standard sizes or get creative with a shape that fits your event. Then add personalized names to make your event more memorable and provide something your attendees can take home to remember their event experience. Don't forget to order lanyards. Check out our Lanyard options. We recommend a double oval clip to limit the amount of flipping and turning.
All Event Badger orders are made in the USA and come with free shipping.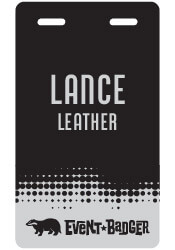 Our economy leather is 3/64" thickness. It is a single sided badge for a slimmer and more affordable option.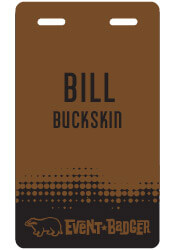 Add additional information to the backside with our premium leather badge. This is a double sided badge and double the thickness.
Tell us your size and quantity
to get a quote.
Send us your artwork or
work with our designers
Send us a spreadsheet of your attendees' names to personalize each badge
Our economy leather material only comes single sided. However, we recommend adding a vinyl decal to the backside if you need additional space. Ask your project manager for more details.
Yes! Our leather badges are flexible! They are sturdy enough to lay flat but can so bend like fabric without damaging the badge.