Tear-resistant badges are as durable as they are lightweight.
Are you hosting your next event, conference, or tradeshow? We've got the perfect badge for you! Stop using the standard plastic badge with a paper insert and switch to our tear resistant badges. It is a 14pt synthetic paper with a full color print. They lay flat without curling or warping when you write on them with a pen or marker.
Not only are they light weight and strong, this material is also scratch resistant, water proof and weatherproof so it's perfect for indoor or outdoor events. You won't have to worry about your attendees' badges getting ruined.
With our custom event badges, you can stick to our standard sizes or get creative with a shape that fits your event. Then add personalized names to make your event more memorable and provide something your attendees can take home to remember their event experience. Don't forget to order lanyards. Check out our Lanyard options. We recommend a double oval clip to limit the amount of flipping and turning.
All Event Badger orders are made in the USA and come with free shipping.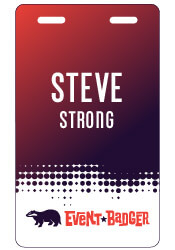 Tell us your size and quantity
to get a quote.
Send us your artwork or
work with our designers
Send us a spreadsheet of your attendees' names to personalize each badge
Our badge have a semi-satin/matte finish. There is a little sheen but mostly flat.
Our tear resistant badges are made from a synthetic plastic with a recycling code "7 - Other". However, after the plastic has been printed on they are considered treated plastic and can not be recycled.